The Gigsville Tourettes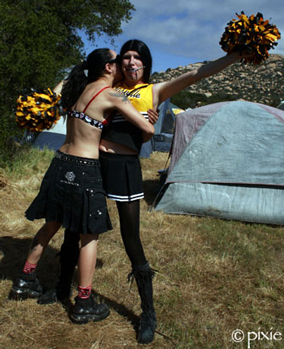 Sha boom! Sha bam! Son of a bitch, Goddamn!
Fuck 'em! Fight 'em! Dynamite 'em!
Yeah shit! Rat shit! Bat shit! Suck a witch's tit!
Cocksucker! Motherfucker! Eat a bag of shit!
We're the only Gigsville! All the others suck!
Gigsville! Gigsville! Yeah rah fuck!
The Tourettes are the Cheerleaders from Hell!
OUR VISION:

To create a motley troupe of rogue cheermongers who would
be shunned and persecuted in any other context.

Oh, yeah . . .we'll wear matching skirts and jump around
and yell without due cause. We'll have well-rehearsed chants
and routines. We'll be the schmotivators and supporters for
all Gigsville projects and installations- whether we are
welcome or not.

But here's the twist.
We are bad. Very very bad.
Bad attitudes. Bad language. Bad habits. Bad timing.
The antithesis of the traditional image of the
perky little social-butterfly airhead.

WE will have matching uniforms (some sans panties).
WE will have cheers.
WE will have chants.
WE will have a marching routine.
WE will get high.
WE will get drunk.
WE will fall down.
WE will curse ALOT.
WE will get back up and do it all over again.

Think obnoxious. Rude. Crude. Unpredictable.
Empower the jerk within and let "her"
shine for awhile.

When all our inner jerks are performing
in unison, it will be a lovely thing to behold.

Leave the warm fuzzies at home.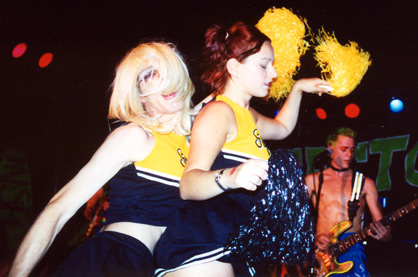 Varsity Squad

Nobody
Juniper
Anomely
Mutech
Girlie Girl
XTC
Caution
Jiggy Ma Ma
Trey
Dennis
Sylkia
Little Bit
Strappy

Junior Varsity

Captain Sodium
Noosha
Mayor Jim